Finding a Great Recumbent Bike Workout is Easier than you Think!
A bike is a bike is a bike, right? No way. People tend to look at the different workout bike options out there and sort of view the recumbent bike as a less effective option. They see the body position as "lazy" and feel as though the rider isn't doing as much work. Nothing could be further from the truth. The recumbent bike is an excellent option for everyone, but even more so for those who need a non-weight bearing exercise for rehabilitation or other reasons. The reality of the situation is that you can get a fantastic workout on a recumbent bike – especially if you have a plan to follow.
Recumbent Bike Workouts
If you're just starting your fitness journey, check out this Recumbent Bike Fat Burning Workout for Beginners on BellaOnline. The author will walk you through everything you need to know about creating a HIIT (High Intensity Interval Training) workout catered to your personal fitness level.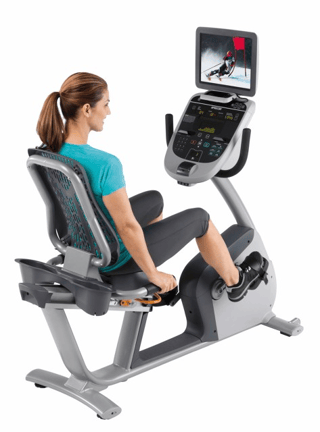 The Metabolic Effect also offers Killer Recumbent Bike Workouts. There are three different workouts to choose from and one of them even incorporates some upper body movement while you pedal, adding light resistance in the form of weights.
Livestrong also has a spin on The Best Recumbent Bike Workout for Weight Loss with a variation on the HIIT theme (that's what you're going to find in most – rather than just pedaling aimlessly at different speeds).
If you'd like some extra guidance, check out the Insane 20 Minute Recumbent Bike Workout from Dr. Kevin Sarich on YouTube. He actually guides you through the entire 20 minutes, and gives you resistance level options for beginner, intermediate, and advanced riding.
This Recumbent Bike Intervals + Arm Training workout involves a little bit of coordination as well. This one is also in the form of a video, so you can see exactly what you need to do for each arm exercise as you pedal.
There are tons of things you can do on a recumbent bike to shake things up and avoid simply pedaling for workout after workout. Follow one of these plans or make up your own – pedal normally while watching TV and increase your intensity during commercial breaks. Be creative and don't do the same workout every single time you're on the recumbent bike.
Not sure where to start? You may want to talk to a personal trainer. Your local Push Pedal Pull store can help ou choose the perfect recumbent bike for your home gym.