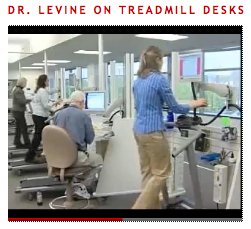 Desks are on the move. The office standard has evolved from sitting to standing but desks are not stopping there. The latest craze is walking while you work. This means a treadmill desk -- one on which you can type your emails, write a report and surf the web, all while walking and burning calories.
How is it possible to perform the fine motor skills needed to type efficiently and navigate your curser while moving? The answer is simple. Treadmill desks are often set a very slow and manageable speed. The goal is not to powerwalk in your power suit but rather to stay moving so that you're always burning calories.
Many companies are starting to implement this trend. An article by Audrey Quinn in Smart Planet notes that Mutual of Omaha, GlaxoSmithKline, Best Buy, Georgia Poison Center, and Missouri University have all experimented with the newfangled desk.
Tech companies and publications are also giving the product a go. Mashable editor Chris Taylor sampled the desk and gave it a favorable review, saying –
"We relish walking while working, working while walking, especially when placed next to a great view of your city (as both Mashable offices are blessed with). We see stuff with a little more clarity, much the way things usually get sorted in your head during a long stroll."
This echoed the experience of a Push Pedal Pull employee who owns a walking desk. Laura Capes, who frequently uses her moving desk, shared that she particularly enjoys walking while on long conference calls.
"Walking while working is amazing! When I went back to work after giving birth to my son, my treadmill desk helped me lose all of my baby weight quickly and easily. I'm so grateful to have a treadmill desk because now-a-days, I have absolutely no time to go to the health club!"
Most who tried the machine have shared that walking at a desk isn't recommended (or enjoyable) for the complete workday. Even if it isn't continually used, the walking desk might just be an important viable addition to a sitting desk.
Check out this segment from Dr. Levine, a Mayo Clinic Researcher, on the value of treadmill desks in the workplace:
Let us know what you think about treadmill desks!