Best Elliptical in 2020
This week in our "best equipment of 2020" series, we will be talking about the ellipitcal, and what we consider to be the best elliptical in 2020. The elliptical is one of the most commonly used pieces of equipment for some, yet shunned by others. We will dive a little bit deeper to see what the elliptical is about and the potential benefits it can offer your workouts in 2020.
Benefit #1 - LOW BARRIER TO ENTRY
Similar to the treadmill, the elliptical has a very low barrier to entry. Being that the machine moves on its own tracks so to speak, anyone can hop on and begin moving in a smooth, yet effective fashion that the handles and foot platforms offer.
Since the handles and foot platforms have a preset pattern of movement, your hands and feet will follow. No time needs to be spent learning how to "elliptical". You just hop on, set your settings (resistance, time, intervals, etc.) and go.
Benefit #2 - LOW IMPACT
Unlike the treadmill, the elliptical has a quality that draws many people to it. It is low-impact. For those that want to give their knees and hips a break, the elliptical may be a great machine to utilize in order to improve cardiovascular health as you work on rehabbing and strengthening those very important joints. One of our recommendations for the best elliptical in 2020 is the Inspire Fitness Seated Elliptical CS3, which is a high-quality elliptical providing a seated, low-impact workout.
Benefit #3 - CALORIES BURNED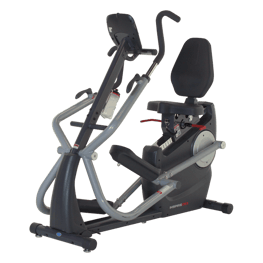 As our technology and environment gives us the opportunities to be more and more sedentary, we must make sure that we combat unhealthy, sedentary lifestyles with good nutritional and exercise practices. Burning calories is a part of that.
We can burn calories automatically through our metabolism, and manually through movement and exercise. Though our metabolisms are responsible for a lot, we can't rely on metabolism alone. We need to exercise to improve our mental, physical, and emotional health.
With varying intensities and resistance levels, the elliptical provides plenty of opportunity for calorie burn. And as we know, weight loss happens when more calories are expended than taken in. So, if weight loss is a part of your goal, you may want to manually burn some calories, and the elliptical can certainly be a part of that.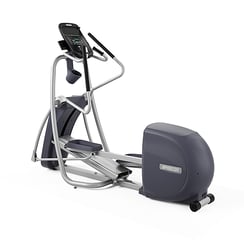 Benefit #4 - FULL BODY ACTIVATION
Since the elliptical provides resistance, we are able to move many muscles in our body. Note that the elliptical does not provide the same benefits of a full body resistance training or weight training workout. However, it can be a good way to get the entire body moving.
The track patterns that the elliptical offers allow us to use both push and pull movements with our upper body, while incorporating lower body movement as well. In order to move the handles, one arm must push, and the other must pull in order to allow the machine to begin moving along its track. The Precor EFX 447 is a great example of an elliptical that allows for full body activation, and another one of our recommendations of the best elliptical of 2020.
Although no one cardio machine should be the staple and center of any home gym, the elliptical definitely has its place in a gym as a low barrier, low impact way to incorporate full body movement, and burn some additional calories in the day.
Take a look at what we believe are the best ellipticals in 2020, the Precor EFX 447 & Inspire Fitness Seated Elliptical CS3.
---
ABOUT THE AUTHOR

Adam is a fitness professional, baseball fan, and cookie fanatic based in Fort Collins, Colorado. After hanging up the cleats, he found a strong interest in the human body and how it performs. Since then, Adam has been transforming lives through fitness in a fun and encouraging atmosphere. As an ACE CPT and Fitness Nutrition Specialist, he is constantly moved to help people improve in all walks of life.