This week we're in our final piece of the "Best Piece of Equipment" series. Thus far, we've talked about the many benefits of strength equipment, the stationary bike, the treadmill, and the rower. We'll be wrapping up this fun series with the best home elliptical of 2019, and why you may consider having one in your home gym.
Let's start off with a very brief history. The elliptical machine was first created in 1995 and received immediate recognition due to its low impact but yet effective methods. Using two handles and foot platforms, the elliptical provides a way for those of all fitness levels to perform a safe but highly effective (in terms of calorie burning) workout.
Along with the other pieces of equipment in this series, the elliptical has many benefits, but we'll talk about the three primary benefits.
Benefit #1: Calories Burned
There are two facts we must face when it comes to modern life.
There is more food available to use than ever before.

We are more sedentary than ever before.
This means that in order to combat these things, we must burn plenty of calories in order to stay fit and healthy. Now, make sure you're focusing in because what I'm about to say is of utmost importance. There are two different ways we burn calories. We can burn them automatically through our digestion, metabolism, etc, and we can also burn them manually through exercise. It is always best to burn as many calories as possibly automatically before obsessing about burning calories manually. Strength training will help you do that. Onward.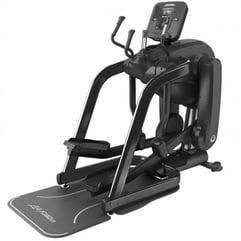 Although automatic calorie burn is of extreme importance, that doesn't mean that burning calories manually is to be taken lightly. If we can burn extra calories to keep the fat off, we may as well do it. Luckily, the elliptical can really help us do that.
The elliptical not only allows the entire body to be working, but creates an environment where plenty of intensity can be applied to the movement in order to burn more calories in a single workout. This piece of equipment could be a great supplement to help you burn calories manually along with the automatic calorie burn that results from strength training.

Benefit #2: Total Body Workout
Earlier in this series we talked about the full body benefits of the rowing machine and how it allows us to work nine major muscle groups. The elliptical shares the same trait in that it allows us to exercise our arms, chest, back, shoulders, and legs. It truly is a great piece of equipment for the entire body. It's important to make clear, though, that although the elliptical can work the entire body, it is not to replace strength training. This full body exercise can be a great supplement to your full body strength training program.
Benefit #3: Low Impact
Bones and joints can be compromised when exercise (specifically high-impact movements) are done the wrong way. Not to say high-impact movements should be avoided, but it's always good to incorporate low-impact movements when appropriate. With gliding platforms, the elliptical is a safe tool especially for those that are taking care of their arthritis, or rehabilitating knee and hip injuries.
The Takeaway
All in all, the elliptical can be great tool to have in your home gym "shed" so to speak. With great benefits like high-calorie burn, low impact movements, and a wide range of intensity, this piece of equipment is yet another great one to add to the collection.
Psst...check out what we feel is the best home elliptical of 2019: Life Fitness Platinum Club Series Flexstrider with Explore Console.
---
Do you want to learn more about HIIT Training? Look for next weeks blog post or download our FREE HIIT Training Workout Guide.
---
ABOUT THE AUTHOR

Adam is a fitness professional, baseball fan, and cookie fanatic based in Fort Collins, Colorado. After hanging up the cleats, he found a strong interest in the human body and how it performs. Since then, Adam has been transforming lives through fitness in a fun and encouraging atmosphere. As an ACE CPT and Fitness Nutrition Specialist, he is constantly moved to help people improve in all walks of life.