For many couples, Valentine's Day consists of decadent dining, sweet treats and a chick flick. If fitness is a priority for you and your significant other, break away from the norms and have a healthy Valentine's Day this year. Here are some suggestions to help you plan your day.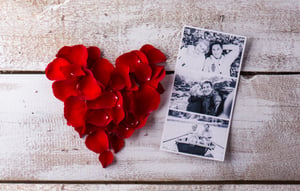 Participate in an outdoor activity. It's still chilly in February, but that doesn't mean you must stay inside. Bundle up and spend quality time together sledding or ice skating. If you get lucky and it's warm on Valentine's Day, rent a tandem bike or go on a hike.
Prepare a romantic dinner at home. While you can find healthy items on the menu in many restaurants these days, you can more easily cater to special diets and ensure wholesome ingredients when you cook at home. This is also your chance to make dinner extra fun with red, heart-shaped dishes, or more romantic with candlelight and soft jazz music playing in the background. When dinner's at home, the atmosphere you create is up to you.
Choose a healthy recipe. If you decide to cook your Valentine's Day dinner at home, keep it heart-healthy by skipping the heavy sauces and added sugar. Instead, try these Four-Cheese Stuffed Mushrooms as an appetizer, Pomegranate Duck for the entrée, Beet Salad with Goat Cheese and Walnuts as your side dish, and Dark Chocolate Fondue for dessert.
Give back to the community. Spoiling your significant other makes Valentine's Day special, but you may find that serving your community is good for your mental health and brings you closer as a couple. If you regularly volunteer with a local organization, ask your partner to come with you this time. You can also check with your local soup kitchen, food bank or another non-profit for ways you can help.
Replace the box of chocolates with a poem. Candy is tasty, but it doesn't last long, and it has a negative impact on your waistline. Opt for a gift with more permanence by finding a poem that describes the love you have for your partner, or compose your own limerick for an extra personal touch.
Trade flowers for fitness. A bouquet of flowers is another traditional Valentine's Day gift, but it doesn't last. The blossoms look and smell nice for a few days, but they soon wilt, and you have to throw them away. Why not give your partner something that matches his or her lifestyle? A new yoga mat, heart rate monitor or set of kettle bells for your health-conscious partner is much more meaningful than those cliché Valentine's Day gifts.
Push Pedal Pull is a local exercise equipment expert based in Sioux Falls, SD with locations across the Midwest. Let us be your trusted partner as you set new health and fitness goals for Valentine's Day and beyond. To learn more about our home fitness equipment and accessories, please contact us at 888.861.8978 today.