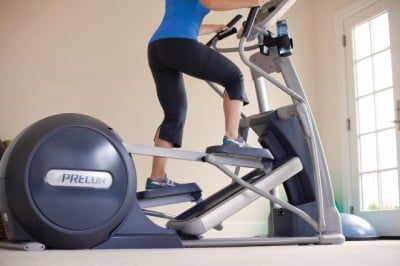 Although elliptical trainers are available everywhere now, twenty years ago no health club or gym on the planet offered them as an alternative to treadmills and stationary bikes. That's because the machine hadn't been invented yet. So it's no exaggeration to say that Precor's 1995 unveiling of the first ever Elliptical Fitness Crosstrainer (EFX) was a major game changer in the industry.
In the two decades since the Precor EFX's introduction, the company has worked to continually evaluate and enhance the technology behind their original concept. The result of this tireless effort is a dynamic fitness machine that closely mimics a natural walking or running stride, engages more muscle groups than ordinary cardio equipment, and provides a true cross-training effect for a more efficient workout.
At this point, you might be asking yourself how a single fitness machine can accomplish all that. The answer lies in Precor's EFX CrossRamp technology, which warrants a closer look.
What is it?
The main component of this patented technology is an adjustable CrossRamp that allows the user to customize the incline angle to vary workout type, intensity, and targeted muscle groups.
How does it work?
On most Precor elliptical models, the user simply has to input the desired CrossRamp angle (typically between 13 and 40 degrees) via the onboard keypad to get the machine to adjust automatically. For example, setting the angle to 13 degrees might replicate a cross-country skiing workout, while ratcheting the CrossRamp to 40 degrees might simulate a challenging uphill hike.
How can a Precor EFX with CrossRamp technology help me reach my fitness goals?
By offering a low-impact workout that is easy on joints and reduces the risk of injury
By allowing you to target which muscle groups to train (and for how long) so you can follow a custom fitness program
By lowering Relative Perceived Exertion so you can work out longer and harder
By featuring preset workouts designed to optimize fat burning and weight loss
By facilitating simultaneous upper body workouts via the moveable handles or allowing for core workouts without the handles
By easily adjusting to all sizes and body types to comfortably accommodate multiple users on the same machine
It's worth noting that many of these EFX CrossRamp technology features are available even on entry-level Precor machines, which means you don't have to spend a bundle to reap the benefits.
For more information about Precor EFX CrossRamp technology or to shop our full line of fitness equipment, visit a Push Pedal Pull near you or shop online at www.pushpedalpull.com.