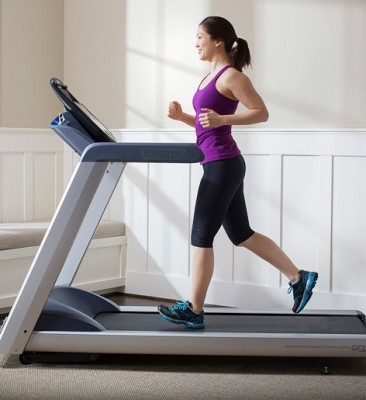 Note: This is Part 3 of a 7-part series intended to give readers a closer look at Precor's new line of ellipticals and treadmills. Part 1. Part 2.
Precor, one of the most recognized and respected names in the fitness equipment industry, has released five new treadmill models in its core line of Precision and Energy Series machines. These premium treadmills incorporate cutting-edge features and technology to provide beginner, intermediate, and advanced workouts in an attractive, user-friendly package.
Precision Series Treadmills (TRM445 & TRM425)
Precor's Precision Series TRM445 and TRM425 treadmills are engineered to produce the ultimate home workout experience. These machines are built with the high-quality, long-lasting decks and components typically associated with commercial fitness center equipment, and come with patented Precor innovations such as Integrated Footplant Technology (IFT), Ground Effects Impact Control System, and CrossRamp Technology. When you add features such as preset or programmable workouts, premium handlebars, oversized cup holders and accessory tray, SmartGrip tablet holder, and a ramp that both inclines and declines, you get the most comprehensive and customizable home treadmill available to consumers.
Energy Series Treadmills (TRM243, TRM223 & TRM221)
The three new treadmills in Precor's Energy Series product line are designed to appeal to exercisers that want the most desired features in a machine, including heart rate monitoring, intuitive speed and incline controls, and preset workouts, at flexible price points that can accommodate different budgets. The TRM243 comes with the all-new 40 console and its wide array of feedback options and workout data, while the TRM23 comes with the 20 console and its streamlined display of the most essential metrics.
The TRM221's compact design, overhauled display, and multi-zone suspension/shock absorption system make it the ideal treadmill for fitness novices or anyone else that wants to begin a challenging home exercise program.
In-Person Consultation and Demo
Let one of the fitness experts at Push Pedal Pull guide you through the ins and outs of the latest feature-filled Precor Precision and Energy Series treadmills described here. Check out pushpedalpull.com to find a store location near you and drop in anytime for a free consultation and product demo.