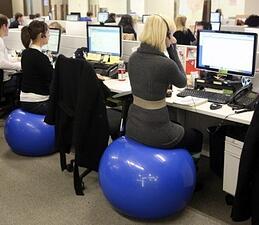 One of the most common excuses people give for not exercising regularly is that they simply don't have enough time. Between career and family obligations, social commitments, and household responsibilities, it hardly seems possible to accomplish anything else in the scant 24 hours in a day.
But the reality is that you don't need extended blocks of free time in your schedule in order to fit in enough exercise to experience some healthful benefits. In fact, here are 10 fantastic ways to squeeze some fitness into your routine no matter how busy you are:
Set your alarm earlier and work out first thing in the morning…before all of life's minor emergencies have a chance to mess up your schedule
Even if you can only set aside 20 minutes per day for exercise, that's enough time to run a mile on your treadmill, and even add in 25 pushups and 50 sit‒ups, depending on your speed
Unless you're training for an endurance event, intermittent exercise (e.g. multiple 10 to 15 minute sessions throughout the day) is just as effective for weight loss and overall health as one long sweat session
Try changing your commuting method, or parking as far away from the office as possible so you can fit in some extra biking or walking
Take advantage of your break times and lunch hour by walking around the building or parking lot, climbing stairs, or going through a stretching routine at your desk
Consider ditching your traditional desk chair in favor of a stability ball to strengthen your core while you work
Instead of sitting on the couch to watch your favorite TV programs (and potentially engaging in TV snacking), try using your home fitness machine while you watch
Delegate household chores when you can. Are your children old enough to learn to help out? You can easily supervise toy pick‒up, vacuuming, or dusting while you exercise nearby
Make the most out of limited exercise time by cranking up the intensity of whatever you're doing, be it walking, running, or weightlifting
Invest in a high‒quality treadmill, elliptical, or stationary bike from Push Pedal Pull so you can cut out time spent commuting to the gym
Getting enough exercise every day is a much less daunting task once you realize there are many interesting and unconventional ways to do so. Forget those rigid, outdated notions that workouts must be performed in a particular setting for a particular length of time, and start fitting in fitness however you can. What ideas do you have to fit fitness into your day?