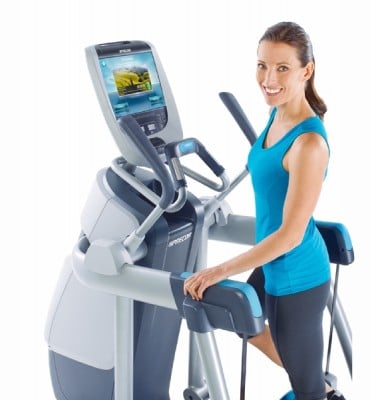 Precor unveiled a brand-new exercise machine at the 2012 IHRSA International Trade Show and Convention. It's called the Precor AMT with Open Stride®. AMT stands for Adaptive Motion Trainer. It may look like an elliptical, but it's not your standard machine.
When the elliptical first emerged on the fitness scene, it garnered attention because it was the first type of cardio equipment that had three variables to a workout: speed, resistance and elevation. Now, the new Precor AMT with Open Stride is the first piece to offer four variables: speed, resistance, stride depth and stride length.
The new AMT with Open Stride allows you to change the stride length, stride height, pace, resistance and more to give you a fully customizable workout that will continually challenge you.
"I've never seen the level of excitement out of the gate that we've seen generated by this AMT," said Precor Chief Innovation Officer Jim Birrell at the machine's launch.
By changing your stride height and length, you can experience an infinite number of stride patterns. This will allow you to constantly mix which muscles you are engaging with your workout -- all with one machine. You can run, climb, stride, jog, step, lunge and even work your upper body with the AMT with Open Stride. With easy-to-use controls, changing the stride length, height or more in the middle of an intense cardio is easy, providing you with a seamless user experience.
Because the machine allows the user to adjust the stride motion, this machine can be used by almost anyone, no matter age or fitness experience level.
Other exciting new aspects of this machine include a large LED touch screen, a wide variety of pre-set workouts, a workout library, and other entertainment features.
Watch the video below to see the new Precor AMT with Open Stride in action.