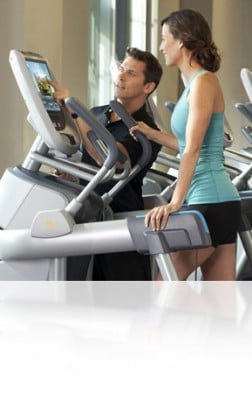 In the midst of an intense workout, the last thing a fitness buff wants to do is fumble with the controls on a machine's console. Console design has evolved greatly over the years and, thanks to technology, is offering a higher level of customization and entertainment.
The Precor P80 series touch-screen console garnered praise in the September issue of Athletic Business and rightly so. The P80 has emerged as a leader in console technology. In the article, Adam Hubbard, director of product management at Precor was quoted as saying, "The simplest user interface is the most complicated to design, and traditionally, the most complicated user control solutions often have had the simplest designs."
With this mindset, the Precor engineers took an incredibly intricate design and packaged it in a very simple, straightforward product.
The console's screen is large, as are the touch-activated buttons in the navigation. Precor was careful to keep everything within reach of the user, allowing for quick adjustments. The navigation is very easy. The top of the screen displays workout stats and the center shows workout or entertainment controls.
A user can start a workout one of three ways – selecting a workout program from the extensive library, clicking on a common start button or selecting the featured workout of the day. The featured daily workout is a new offering from Precor and allows users to stay motivated by switching up their programs regularly.
The console design minimizes clutter. In fact, if you are someone who doesn't like to see time, distance or other stats during a workout, you can even hide that information. A user can customize what information is visible at all times. A user could watch a TV show while keeping an eye on the stat that they find most important. Also, a user has the option to customize their workout based on time, distance or calories burned.
The most impressive aspect of the console is that it grows more powerful the longer you own it. Since Precor designed the console technology, they can improve the capabilities of the machine with a simple software update. This extends the possibility of the console indefinitely. It can be updated with a USB drive containing Precor software or can be updated, monitored or controlled from any computer via the internet.
Learn more about the P80 with this video from Precor: