Note: This is Part 4 of a 7-part series intended to give readers a closer look at Precor's new line of ellipticals and treadmills.
Part 1. Part 2. Part 3.
Getting an intense yet comfortable workout from your home fitness equipment depends a great deal on the form and function of the machine. In particular, poorly positioned controls and buttons can have a negative impact on both performance and safety, which is why the following physical innovations found on Precor's Energy Series and Precision Series treadmills are worth noting.
Motion Controls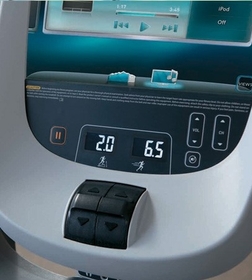 Precor has brought its extremely popular motion control toggle switches, first introduced in the company's commercial exercise equipment, to its line of home fitness machines. These toggle switches are designed to make it easier for users to adjust the intensity of their workout (incline and speed for treadmills; resistance and ramp angle for ellipticals) without having to slow down or fumble with small, hard-to-push console buttons.
Redesigned Stop Button with Safety Features
All of Precor's new Energy Series and Precision Series treadmills also come with a redesigned Stop button that resides just beneath the lower-center part of the console. Its large size makes the button both highly visible and easy to use, which adds to the overall safety of the machine. The Stop button performs several important functions, depending on how many times it is pushed. The user may:
Push once to pause the workout and retain current data for up to 20 minutes
Push twice to stop new data accumulation and end the current workout
Push three times to reset all data fields and return to the console's home screen
In addition to the Stop button, Precor's latest treadmills are equipped with a magnetic stop key that attaches to the user's clothing via a lanyard. This is a backup safety measure that immediately stops the treadmill when the key is removed from its tray due to a stumble or misstep by the user.
In-Store Demo
Describing these new physical innovations in a blog hardly does them any justice. To really appreciate how much of a difference they make to your exercise experience, we recommend visiting your nearest Push Pedal Pull location for an in-store demo. Check out our website for store listings and don't forget to bring your sneakers!