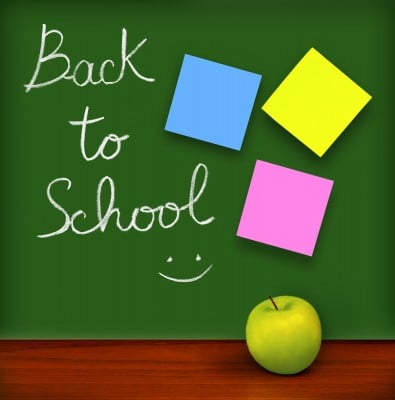 With a new school year comes a new chance to improve fitness and wellness for children. One challenge facing parents is the daily question of what to pack for lunch. Packing smart, healthy meals that will give children the energy they need to perform well for the rest of the day is important.
With that in mind, we scoured the web for some creative yet healthy school lunches that will help parents send their children to school with a delicious but nutritious meal.
1. Fun Shaped Salad
Use a few cookie cutters with fruits and vegetables to help a salad take center stage in a child's lunch.
Source: Uploaded by user from lisastorms.typepad.com on Pinterest

2. Colorful and Portion-Controlled
Pasta will give athletes some carbs for after-school activities. Balanced with plenty of veggies, this lunch will keep kids full and fueled.
Source: Uploaded by user from littleladieswholunch.com on Pinterest
3. Meatball Sub Reimagined
Skip the marinara and try a savory turkey-meatball pita pocket instead. A whole-wheat pita and turkey meat keeps calories down while still providing plenty of flavor for kiddos.
Source: Good Housekeeping
4. Veggie Roll-Up
By rolling veggies in ham or other meat, you can sneak some more greens into the meal. Cheese could also be added, or a low-fat dipping sauce.
Source: Skinny Mom from Week of Menus
5. Tuscan Tuna Salad
This one is a new take on a lunchbox standard – tuna salad. By mixing in white beans and tomatoes, kids still get to munch on a tasty sandwich while getting added protein and vitamins.
Source: Eating Well
When packing a school lunch, remember to keep it colorful by adding in fruits and vegetables. What are your favorite lunchbox fillers? What do your children enjoy eating?