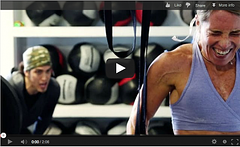 The CrossFit wave is sweeping gyms across the nation. CrossFit is a type of strength and conditioning program that basically prepares your body for anything. It's functional training to the extreme. Described by its founders as "minimalistic," CrossFit gyms are often sparse and contain simple equipment. CrossFit is usually done in a group and encourages both competition and teamwork.
Here's a video from CrossFit to give you a better understanding:
Why is CrossFit So Popular?
Almost anyone can do CrossFit. From stay-at-home moms looking to improve their fitness to the most advanced weightlifter – CrossFit challenges all groups alike. With CrossFit, you'll do everything from flipping tires to pull-ups to trying to lift your body weight up over your head.
We asked our very own Doug Corson, Director of Retail Sales at Push Pedal Pull, why he thought CrossFit was so popular. Doug and his wife Megan, a trainer at our new Des Moines location, are both CrossFit enthusiasts. Doug explained how CrossFit forces people to push their fitness abilities further than they ever thought possible.
"What I've noticed is that people are able to do things that they never thought they could do," said Doug. "It's incredible to see somebody be able to do a pull-up for the first time or to see someone dead-lift over their body weight. You watch them get stronger."
Doug explained that not only is CrossFit accessible to all types of people but that there is a sense of community among those who do it.
"The other people in the gym cheer you on and are impressed by every small gain that a person makes. They all hold each other accountable and they're all each other's biggest fan," said Doug.
"I've never in my life experienced fitness this way."
Looking to Bring CrossFit Home?
Some home equipment that can help you perform CrossFit exercises includes kettlebells, jump-rope and a weighted ball. CrossFit is intense and it's recommended that a beginner really start slowly. Begin with air squats and push-ups and gauge your current fitness level. When ready, add a kettlebell for weighted squats.
One CrossFit exercise that can be replicated at home is a Renegade Row. With two kettlebells placed on the ground shoulder-width apart, get in push-up position above the kettlebells. When in a pushup position, pull one kettlebell slowly upwards and slowly lower. Repeat on the other side.
Again, we stress that any beginners start slowly with basic push-ups and make sure to use proper form in all exercises to avoid injuries.
Nervous to Try CrossFit?
Doug encourages newbies to face their fears and give CrossFit a chance.
"Don't ever be afraid. Just expect to be intimidated — it's like the first time you walk into a weight room. You don't know what to do with that stuff. But over time you learn how to use it," said Doug.
"It's the same thing here. Everyone at every fitness level will be challenged by CrossFit and it will be one of the best workouts they've ever had."
At Push Pedal Pull, we are currently working with our vendors to try to carry more functional training equipment for those enjoying CrossFit. Come into a store today and see how to bring the intensity of CrossFit home. To learn more, please visit CrossFit.com.