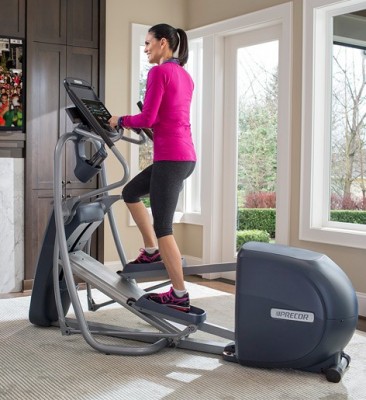 Note: This is Part 2 of a 7-part series intended to give readers a closer look at Precor's new residential line of state-of-the art ellipticals and treadmills.
Part 1.
Precor, the company that first brought elliptical crosstrainers onto the scene in the mid-'90s, has recently overhauled its popular line of home fitness cardio machines. Included in the new line are seven sleek and functional ellipticals with a wide range of exciting features designed to deliver a quality workout while simultaneously enhancing the exercise experience. Here's a brief overview of what you can expect from the latest models:
PRECISION SERIES
Elliptical Trainers: EFX 447, EFX 425 & EFX 423
The search for the best elliptical trainer on the market begins and ends with the Precision Series EFX 447. This incredibly durable machine offers a robust set of features including a high-tech 40 console display; convertible arms that can be engaged for a full-body workout or docked for lower-body isolation workouts; redesigned handlebars and cup holder; Eddy Current resistance; and a motorized ramp that can be adjusted from 13 to 40 degrees.
The Precision Series EFX 425 elliptical trainer provides similar functionality as the EFX 447, differing only in the type of console used and the ability to dock the arms.
Meanwhile, the EFX 423 uses the smaller 20 console and is designed exclusively for lower-body training. This machine also features upgraded handlebars with contact heart rate sensors.
ENERGY SERIES
Elliptical Trainers: EFX 245, EFX 225, EFX 222 & EFX 221
The Energy Series EFX 245, EFX 225, and EFX 222 elliptical trainers might best be described as high quality cardio machines that offer a terrific blend of features and price performance. The EFX 245 in particular is an overhaul of Precor's #1 selling consumer fitness machine, and now comes with the new 40 console, movable arms for dual action training, improved handlebar and accessory tray design, and a motorized adjustable ramp.
The EFX 225 and the EFX 222 offer the same must-have features and smooth performance of the EFX 245, but with the 20 console instead of the 40. In addition, the EFX 222 comes with a 3-position manually adjustable ramp rather than a motorized one.
For budget-conscious consumers, the EFX 221 is an excellent option. It comes with the new 20 console, built-in heart rate monitor contact pads, and a 3-position manually adjustable ramp. Plus, users still get the same engineered EFX, pedal motion, and patented biomechanics that make Precor the most sought-after name in the industry.
STOP IN FOR A DEMO
Whether you're in the market for a top of the line elliptical trainer with all the bells and whistles or for a budget-friendly alternative that doesn't skimp on performance, the new home cardio line from Precor offers several options for you to choose from… but before making a purchase, it's best to consult with a specially-trained fitness equipment specialist like those at Push Pedal Pull. We invite you to visit a store near you for a demo and free consultation. You can also learn more about these new products by visiting www.pushpedalpull.com.