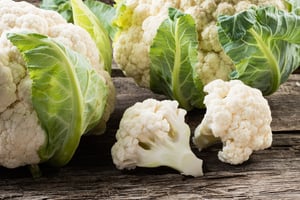 The new year is a great time to try out some new recipes. Whether you're a vegan, vegetarian, or just made a resolution to eat healthier for the new year, there are plenty of recipes for you to choose from. Thanks to the internet there are thousands of recipes available at your fingertips and chances are you haven't tried most of them yet.
Plant based meals are more popular than ever before and 2018 is likely to see even more Americans converting to a vegan or vegetarian diet. The trouble is that it can be a bit tricky to cook meatless recipes at first if you don't have any experience doing so. Some people are under the incorrect assumption that vegan or vegetarian dishes are less flavorful than more traditional recipes.
Check out this delicious recipe for cauliflower quinoa meatballs in coconut turmeric sauce. These meatless meatballs serve six and take about 30 minutes to prepare and another 35 minutes to cook. They do require quite a few ingredients, so be sure to plan a trip to the grocery store before you get started.
If you're looking to make a nice vegan dessert, you can't go wrong with these lemon bars. The recipe makes eight servings. The lemon bars will take about 2 hours and 20 minutes to prepare, but don't worry most of that is just letting them sit in the refrigerator. They make a nice sweet dessert to pair with the savory meatballs previously mentioned. Add your favorite healthy beverage and you'll have a complete meal to share with someone else who may be thinking about learning how to cook healthier.
If your New Year's resolutions included being healthier, diet is only part of the solution. You can find all the exercise equipment you need at Push Pedal Pull. Stop in today to see what we have available.