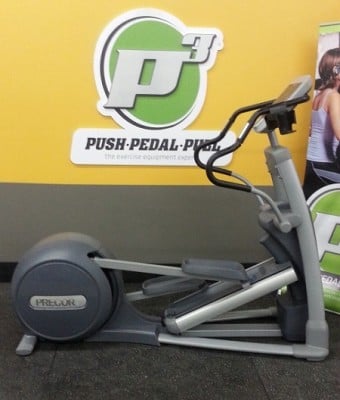 Buying used fitness equipment can be a terrific way to build your home gym on a limited budget. Because of the rate at which many commercial fitness centers purchase new equipment to attract and retain members, savvy shoppers can always find a huge selection of used machines with plenty of quality years left in them. The key is to know where to look and what questions to ask before handing over your cash. Toward that end, here are Push Pedal Pull's essential tips for buying the best used fitness equipment available:
Understand the terminology
Since there is no industry standard governing the use of descriptive terms, it can be difficult to decipher precisely what is meant by ''refurbished," ''pre-owned," ''remanufactured," ''floor model," ''reconditioned," and similar words, especially because different retailers use them to mean different things. So before spending any money, be sure to get a detailed explanation from a sales rep.
Commercial vs. residential grade
The most durable fitness machines on the market are the ones intended for commercial use in health clubs, public gyms, hotels, cruise ships, and other high-traffic venues. Used commercial-grade equipment, widely available at Push Pedal Pull locations across the country, can withstand the rigors of daily use far better than anything designed specifically for residential purposes, and is therefore a smarter buy for shoppers seeking longevity.
Research the brand, model, and seller
Just as with any other major purchase, it's important that you thoroughly research the brand and model of the used fitness machines you're thinking about buying. Check that the manufacturer has a long-standing reputation for producing quality products and that the particular model you're interested in has the technology and features you desire for your workouts.
In addition, this is the time to look into the background of the seller you plan to deal with. Verify that you'll be helped by knowledgeable specialty fitness experts before you buy, and that their support will continue after your purchase is complete. The internet makes it easy to find unbiased third-party reviews and testimonials, so there's no excuse for neglecting this step.
Review the warranty coverage
Regardless of the brand of machine you buy or the store you purchase from, there's always a chance—however small—that something might break down or wear out faster than expected. That's simply the nature of buying used fitness equipment (or used anything, for that matter). So before finalizing your purchase, take a few extra minutes to go over the warranty information to ensure you understand exactly what's covered and to what extent.
Although the point of buying used fitness machines is to get high-quality equipment at lower-than-retail prices, there's more to the process than simply looking at the numbers. Understanding the terminology involved; sticking to commercial equipment; researching specific brands, models, and sellers; and evaluating warranty coverage will put you in a position to make the best possible purchasing decision for your health goals and budget.